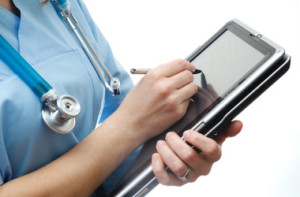 With the amazing growth of health information technology in recent years, you may be interested in learning about careers available in nursing informatics. Nursing informatics is a field that combines the skills and knowledge of nursing with skills in information management that can help individuals and communities. This is a growing field and so its parameters are still emerging, but there are many types of jobs that combine these types of skills. Read on to find out more about nursing informatics and the type of education needed to pursue a career in this field.
The Emerging Field
Because nursing informatics combines both nursing and information technology skills, jobs in the field will vary in terms of what they emphasize. However, some of the areas which are important in the field, and through which you might build a career, include education, research, information presentation, health care policy and administration, according to Explore Health Careers. The combination of skills in this field makes nursing informatics uniquely equipped to integrate the information gained from health records into the work of nursing, resulting in potentially better outcomes for patients. You might work as a teacher, a researcher, a data analyst, a software engineer, or a chief nursing officer or chief information officer. You might also work as a consultant. Regardless of the job title or the setting in you which work, such as a health system or an industry, you will be combining your nursing knowledge with information technology in ways that will help improve healthcare.
Preparing for a Career in Nursing Informatics
Nurses who are drawn to a career in informatics may find themselves considering it because they've already spent time learning new technologies. Legislative acts passed in 2009 and 2010 encouraged healthcare systems to begin to adopt electronic health records (EHRs) which help healthcare facilities deliver and document services to patients. Nurses are often at the forefront of those using these electronic records, so it's not surprising that some of them, who become proficient at using these kinds of technologies, end up being key liaisons to health information technicians and eventually studying informatics themselves. There is now a special informatics track in some Master of Science in Nursing (MSN) programs. Even if you do not hold a graduate degree, you could still be eligible for Informatics Nursing Certification from the American Nurses Credentialing Center (ANCC) if you are an RN with a bachelor's degree and can meet other eligibility requirements. Those requirements include a minimum number of hours practicing nursing informatics or a combination of relevant practice hours along with some graduate level coursework. If you are eligible for this certification and take and pass the exam, then you will be board certified in informatics for five years.
Related Resource: Nursing Administration
Because information technology has become such an important part of healthcare delivery, the need for competent and skilled nurses who can learn and utilize new technologies is also on the rise. Job opportunities in this field are on the rise, as are salaries. If you are looking into nursing areas where you can use you skills in technology, checking into careers available in nursing informatics may be a good idea.