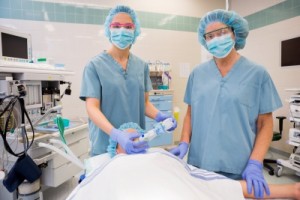 Since Certified Registered Nurse Anesthetists (CRNAs) are responsible for utilizing their advanced clinical training in relieve pain associated with surgery, injury, illness, and childbirth through anesthetics, the degree needed to be a Nurse Anesthetist is a Master of Science in Nursing (MSN). As advanced licensed healthcare professionals who must become nationally certified to practice in all 50 states nationwide, CRNAs provide anesthesia services to patients across the lifespan in hospitals, clinics, dentist offices, private practices, outpatient centers, delivery rooms, and more. In addition to administering anesthetics, CRNAs are given the task of ensuring patients' vital functions remain steady throughout the administration of anesthesia. If you are interested in entering this highly in-demand nursing profession, the following is a guide to the steps needed to become a Certified Registered Nurse Anesthetist, according to the American Association of Nurse Anesthetists.
Master of Science in Nursing: Nurse Anesthesia
After obtaining a Bachelor of Science in Nursing and working at least one year as a Registered Nurse in an acute care clinical setting, nurses aspiring to become a Certified Registered Nurse Anesthetist will need to pursue a Master of Science in Nursing (MSN) degree with a concentration in Nurse Anesthesia. With the goal of preparing students to administer the full range of anesthetics to diverse patient populations throughout medical procedures, these master's degree programs typically require the completion of two to three years of full-time graduate study. Regarding university requirements, all accredited nursing degree programs for Nurse Anesthesia will provide a blend of didactic learning with hands-on clinical learning experiences in university or community-based hospitals.
Within the classroom, students enrolled in a Master of Science in Nursing program in the specialty area of Nurse Anesthesia can expect to take courses in human anatomy, physiology, pharmacology, pathophysiology, anesthesia principles, research methods, pediatric anesthesia, health policy, pain management, emergency trauma care, accessory drugs, obstetrical anesthesia, chemistry, and health assessment. Graduate nursing students also typically spend at least three days each week immersed in clinical rotations in critical care settings to strengthen practical skills with delivering anesthetics. On average, students in Nurse Anesthesia often complete nearly 2,500 clock hours of clinical experience and administer around 850 anesthetics by the time they receive their diploma.
How to Select the Right Nurse Anesthesia Program
Since the American Association of Nurse Anesthetists reports that there were 113 accredited programs for earning a master's degree in Nurse Anesthesia throughout the United States as of 2013, choosing which program will perfectly align with your learning needs may be a difficult decision. When finding suitable programs, it is important to look out for degrees that have been approved by the Council on Accreditation of Nurse Anesthesia Educational Programs for excellence in the field. Furthermore, you should consider the breadth of clinical opportunities available, financial options for affording rising tuition rates, and successful job placement rates after graduation. Registered nurses who are balancing school with work and/or family obligations may also want to seek out programs that offer part-time study options with flexible formats to accommodate their busy schedule.
Related Resource: Nursing Informatics
Earning a Master of Science in Nursing degree with a specialization in Nurse Anesthesia can be the perfect option for putting Registered Nurses on the correct pathway towards one of the most in-demand and lucrative nursing positions available. Although the degree needed to be a Nurse Anesthetist will require about three full years of advanced study beyond the baccalaureate level, graduates will enjoy very promising job prospects in healthcare's largest growing industry.