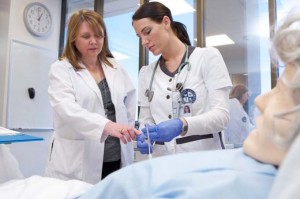 Is there one type of degree needed to be a nursing instructor? If you have always had a passion for education, but you also want to be in the nursing field, being a nurse educator could be the perfect path to take. As an educator who works in the field of nursing, you will teach other nursing professionals how to care for patients in both lab and clinical settings in universities or hospitals. There are many different types of nursing careers that you can pursue when you have a nursing license, but there is a specific path that will lead you to instruction quicker than others. Read on, and learn about degree and experience requirements.
Earning Your Bachelor of Science in Nursing
The first step to become a nursing instructor is to earn your BSN from an accredited institution. If you already possess an associate's degree, you can earn your BSN in two years if you are enrolled in school full-time. It may take you four years to earn your BSN if you do not have any of your general education completed. Upon completion of the BSN program, you will need to review the requirements to take the NCLEX-RN standard licensing exam to become an RN. With your license, you can begin to practice as a nurse as you work towards advancing your education to later become an educator. Having hands-on experience will be important when you want to teach nursing students.
Earning Your Master's Degree in Nursing
All nursing educators will need to possess a minimum of a Master of Science in Nursing. You will need to decide if you would like to earn a general master's degree or if you want to attend a program with a specialization in nursing education. If you cannot find a program with a specialization, you will need to take a certification program upon the completion of your MSN before you will be considered for any teaching positions. According to the National League for Nursing, to become a certified nursing educator you may also qualify if you have a MSN or a doctorate in nursing and have completed nine or more graduate-level education courses. This will eliminate the need to take a certificate program.
Experience Requirements to Get Certified
Certified Nursing Educators, also known as CNE's, may also need to have experience prior to testing for their certification. To by-pass the experience requirement, you will need to have a certificate in nursing education or additional credits completed in education. If you have experience, but do not have the nursing education focus, you will need two years of experience working in an academic institution where you are part of the nursing program. This experience must have been obtained within the last five years.
Related Resource: Become a Nurse Anesthetist
Most people are familiar with the fact that there is a nursing shortage in the nation, but many overlook how the shortage of nursing educators only perpetuates this problem. A nurse educator plays an important role in forming and training the next generation of nursing professionals. If you want to be a part of molding the future, you need to begin by getting your own degree. Earn a Master's in Nursing with a focus in Nursing Education and get the degree needed to be a nursing instructor.