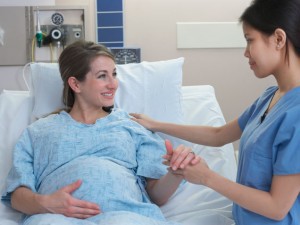 There are many rewarding career paths that you can pursue in nursing, including the role of a labor and delivery nurse (L & D nurse). If you are interested in exploring this particular branch of nursing, read on to learn more about what degree and other education is required in order for you to work as a labor and delivery nurse.
Responsibilities
Nurses who assist in labor and delivery get to do the hard but rewarding work of helping mothers bring babies into the world. A nurse in this role will assist doctors to help ensure the healthy and safe delivery of infants. Some of the tasks involved include coaching the mother through the birth process, monitoring both baby and mother during labor, administering medications if needed and assisting in labor. L & D nurses need to be quick thinking and skilled in helping to identify any possible complications. L & D nurses sometimes assist in the operating room when a C-section delivery is necessary. They also often help provide care to mothers after delivery or prior to giving birth, if they need extra care due to complications during pregnancy. Some also work in hospital or clinic nurseries, caring for newborns.
First Steps
If you think you would like to become a certified labor and delivery nurse, your first step will be to become a registered nurse (RN). You become an RN by first completing a diploma program – an associates degree in nursing (ASN) or a bachelors degree in nursing (BSN). Whichever degree you complete, you will then need to take and pass the national exam that qualifies you to be an RN. If you have an interest in working in the area of childbirth, it will be a good idea to take classes that will help you toward that goal, such as training in fetal monitoring and neonatal resuscitation.
Certifications
Once you have at least two years of experience working in labor and delivery, you may pursue certification. There are certifications in a number of specialty areas including postpartum and intrapartum nursing, nursery or fetal monitoring. You generally must take and pass a certification exam in order to acquire certification. You can find out more about specialty areas and education that can help you to become certified from the Association of Women's Health, Obstetric and Neonatal Nurses (AWHONN), which is an accredited provider of continuing education for nurses in the field.
However you end up pursuing work in labor and delivery, it's a worthy career goal. L & D nurses have the opportunity of helping families at a very important time in their lives. They provide compassion and critical thinking skills as they work to ensure that mothers and infants are well cared for before, during and after birth. If this sounds like the kind of rewarding work that you would like to explore as a nurse, then you might want to look into the classes and work experience you need to complete to become a labor and delivery nurse.