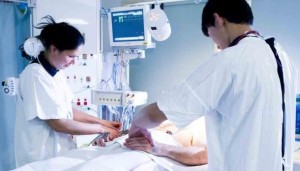 As a college nursing student or someone preparing to enter college, you might find yourself looking at how to become an ICU nurse. Also known as Intensive Care Nurse, these nurses work in the critical care field and on ICU floors in hospitals all across the country. They often find themselves working with patients who are near death and those with medical conditions and problems that require constant care. Sometimes referred to as critical care nurses, those working in the field must have both their degree and a license to practice in the state.
College Degree
Critical care and ICU nurses must have a college degree. According to the American Association of Critical-Care Nurses, registered nurses must have either an ADN, which is an associate's degree in nursing, or a bachelor's degree in nursing, which schools refer to as a BSN. Most nurses complete an associate's degree program first. Those going to school full time can finish the nursing program in two years. Both types of degree programs require that students do clinical rotations in the field and take courses taught by a licensed medical professional or a professor in an accredited degree program.
Nursing License
To become an ICU nurse, nurses also need a license to practice in the state. The board of nursing in your state is responsible for administrating the computerized test, and you can schedule an appointment to take your test after completing an accredited nursing program. This test consists of more than 200 questions on pharmacology, nursing ethics and other topics, and if you answer a certain number of questions correctly, it can shut off earlier. You also need to submit your fingertips for testing and pass a criminal background check. The board will let you know if you passed within a few short days.
Gaining Experience
Many hospitals in the country offer critical care nursing internships that are open to those with a college degree and a nursing license. Unlike the internships that you take in school, these internships pay you a salary that is similar to the salary you would earn in the nursing field. You will have the chance to work on the ICU floor with other nurses. You take the vital statistics of patients, complete paperwork, work with doctors and other nurses and handle all the other tasks of the job. At the end of the internship, the hospital may offer you full-time employment.
Critical Care Certification
The AACN offers certification for ICU nurses, but a certificate isn't mandatory for those working in the field. Obtaining this type of certificate requires that you take an examination that asks questions about the things you might see and experience in the field. You can only sit for that examination once you have at least two years of nursing experience after college. While certification is not mandatory for those looking at how to become an ICU nurse, it can help you negotiate for a higher salary and increase your future job opportunities.
Related Resource: Telemetry Nurse
ICU nurses must have strong communication skills and the ability to work well with patients and their loved ones. They spend long hours in hospitals and clinics working with their patients. To become an ICU nurse, you must have your college degree, a license to work as a nurse in your state and some experience in the nursing field.