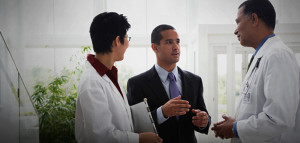 A Master of Health Administration is a degree designed for students who intend to work as a health care manager or administrator. Degree programs tend to either focus on either clinical supervision from a health care perspective or operations management from a business perspective.
What is Health Administration?
Health care administration includes elements of organizational leadership, personnel management, office administration and public health systems. There are two types of health care administrators. First, there are generalists who assist with front-line personnel and facility management. They are the equivalent of an operations manager in the business world. Second, there are specialists who work behind the scenes and ensure the organization functions properly through working in a specific department, such as HR, accounting and policy analysis, according to the Bureau of Labor Statistics.
Master of Health Administration Coursework
All master of health administration programs will cover standard topics, such as statistics, leadership and policy planning and development. There will also be financial topics, such as health care economics and health service budgets. Students will learn how to design and maintain a quality improvement program in order to reduce costs and improve care quality. Students will also be exposed to the most recent health information system (HIS) and electronic health records management (EHRM) programs. There will be courses that teach how to deal with legal issues and maintain compliance with federal and state regulations. Advanced coursework will include classes that deal with strategic, operations and accounting management of health care organizations.
Master of Health Administration Specializations
There are standard specializations for master of health administration programs. For example, a leadership concentration will focus on facility contract, physician practice and health services management. Next, a health policy analysis specialization will help students understand the complex relationships between public health, government regulations and policy creation. Students will study applied microeconomics from the perspective of a profit-based health care organization. Alternatively, students passionate about accounting can specialize in health care finances. Students will learn about financial planning, budgeting and reporting for health care organizations. They will also analyze health care related capital investments and how to create an in-depth working capital analysis. Finally, they will study how to research, develop and implement new health care services and ventures. Tech savvy students can focus on health information technology, which will provide a conceptual framework for how to utilize data and technology that will benefit patient care, IT efficiency and quality improvements. Students will study how to develop databases, manage data and use data analytics for comprehensive reports.
Professional Organizations for MHA Graduates
There are different professional health care associations open to working students with a master of health administration. These organizations offer exclusive career, education and networking opportunities. For example, there are groups that offer individual membership, such as the American College of Healthcare Executives (ACHE) and the Healthcare Financial Management Association (HFMA). On the other hand, there are professional organizations that the health care organization will join in order to improve health care quality, standards and performance. The health care administrator will represent their organization at advocacy and training events, such as those offered by the American Hospital Association (AHA).
Related Resource: Pediatric Nurse
In drawing to a close, students should remember that a master of health administration degree will open career doors that will result in personal growth, job stability and increased revenue.