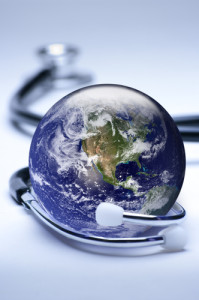 If you want to become a leader in the public health sector, you may want to consider earning a Master of Public Health degree. This multidisciplinary program prepares students to address health problems at a local and global level so that students who graduate are equipped to lead change and make a difference in the health of communities around the entire globe. Physicians, nurses, public health professionals and even professionals from other industries making the transition to the healthcare sector can all benefit from taking an MPH degree program to specialize their knowledge in the field. Read on and learn more about the MPH curriculum and how to go about choosing the best program.
What Will the MPH Program Prepare You For?
The Master of Public Health is a professional multi-disciplinary degree that focuses on the public health practice instead of research. This graduate degree program focuses on not just public health and administration, but also on communications, informatics, leadership and other disciplines that are relevant to becoming a public health leader. Once you earn your degree, you will have the degree that you need to run a community healthcare facility, International health agencies, state organizations, HMO's, public health nursing departments and more.
What Will You Study As You Earn Your MPH?
Traditional programs cover five core areas of studies. These five areas include: biostatistics, environmental health, epidemiology, social and behavioral sciences and health policy and administration. While there are five core areas of studies, you will still be expected to complete multiple classes in each area. Some of the common content requirements include:
Statistical Reasoning
Statistical Methods
Methods in Biostatistics
Environmental Health
Principles of Epidemiology
Occupational Safety and Health Management
Public Health Practice
Managing Health Organizations
Quality Assurance Management
Strategic Leadership Principles
Fundamentals of Budgeting
Pharmaceuticals Management in Under-Served Populations
Public Health Policy
Problem Solving
Human Nutrition
Immunology, Infection and Disease
Biology
Human Development
Who is Eligible to Take an MPH Program?
Not just anyone can apply to take an MPH degree program. Before you can apply for admissions, you must meet the prerequisite requirements. You may not need to have an undergraduate degree in a healthcare-related area, but you will need an accredited 4-year degree. In addition to possessing a Bachelor's degree, you must meet cumulative GPA requirements. To assess your comprehension, you must take the Graduate Record Exam and submit your scores to the school before application deadlines expire, according to the Education Testing Service. Many schools also expect students to submit letters of recommendation.
Is the MPH Worth the Investment?
It can cost you a pretty penny to earn any master's degree. This is why you really must assess the cost and weigh these costs to the advantages. According to the ASPH, there will be demand for about 250,000 more public health professionals by 2020. The demand is extremely high for leadership positions where advanced training is required.
Related Resource: Nurse Manager
If you would like to work in public health, it is time to explore public health careers so that you can decide on where you want to use your knowledge, according to Public Health Online. Once you have decided on an area and a specialty, you can earn your degree and choose the right electives. Be sure not to overlook the importance of comparing different Master of Public Health programs and then you can focus on a detailed application.