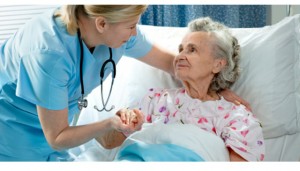 If you are a Registered Nurse who is seeking to take your career in the healthcare industry to the next level for professional advancement, you may want to consider one of the nursing specialties that require a Master's of Science in Nursing degree. Although finding the time to commit to Master of Science in Nursing programs can be difficult to fit into nurses' busy work schedule, the advanced training will provide the skills needed to give high-quality nursing care in a specialized role with greater responsibilities. The following are four of the top advanced practice nursing specialties that require students to graduate with a master's degree in hand, according to the American Association of Colleges of Nursing.
Nurse Practitioner (NP)
As advanced practice Registered Nurses who have completed extensive graduate clinical education at the master's level, nurse practitioners (NPs) often serve as primary healthcare providers under the supervision of a physician for the management of acute and/or chronic health concerns. Nurse practitioners have the advanced training needed to conduct diagnostic testing, examine patient medical histories, design treatment plans, educate patients, diagnose illnesses and injuries, and prescribe medications when necessary. In most cases, nurse practitioners specialize their practice in specific medical areas, such as family, adult, pediatrics, geriatrics, acute care, oncology, women's health, or surgical.
Certified Nurse Anesthetist (CRNA)
Regarded as being in one of the top-paid nursing professions, Certified Nurse Anesthetists (CRNAs) are licensed advanced practice nurses who must complete intensive training at the master's level to provide anesthesia services. While most Certified Nurse Anesthetists practice under supervision from an anesthesiologist, many are the sole healthcare providers of anesthesia to patients in rural communities in every clinical practice setting and for every type of surgery. After a minimum of seven years to higher education, CRNAs are responsible for caring for patients before, during, and after medical procedures involving anesthesia.
Clinical Nurse Specialist (CNS)
With a specialized set of knowledge and skills obtained at the master's level, Clinical Nurse Specialists (CNSs) go beyond providing treatment to patients by serving in leadership, education, and/or consulting roles in the healthcare industry. As part of an elite group of advanced practice nurses with a graduate degree, Clinical Nurse Specialists are responsible for reviewing treatment programs, creating nursing standards, providing expertise in a specialty area, educating other nurses, assessing the quality of patient care, and supervising nurses. In order to improve healthcare services, CNSs work in specialties according to population, setting, type of care, and kind of medical problem.
Certified Nurse Midwife (CNM)
Through their specialized medical expertise gained through a Master of Science in Nursing (MSN) program, Certified Nurse Midwives (CNMs) are advanced practice nurses who provide care to women through every stage of their pregnancies from conception through birth. In addition to working with women through their low-risk pregnancies, some midwives may partner with gynecologists to help female patients from puberty through reproduction and menopause. CNMs are responsible for delivering care during labor, monitoring fetal development, performing physical assessments, maintain patients' medical histories, and providing postpartum care.
Related Resource: Doctor of Nursing Practice
As the healthcare delivery system continues to transform through the 21st century, the demand for advanced practice nurses (APNs) with a master's level degree is expected to steadily rise to improve patient care, according to the American Nurses Association. When you make the decision to pursue one of the nursing specialties that require a master's in nursing, you can expect to benefit from increased abilities to specialize your nursing expertise, higher salary potential, and more in-demand advanced career possibilities.