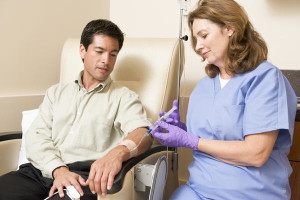 If you are looking for a specialty within the field of nursing, you may want to learn more about what an oncology nurse is and what nursing specializing in oncology does. Oncology nurses are registered nurses who specifically provide care to cancer patients and other patients with weak immune systems who are at risk of getting a debilitating disease. The role of specialized RN's who work with oncology patients is an important one as they are both clinical professionals and support systems for their patients and families. If you would like to learn more about various things that you will do on-the-job or about demand in the specialty area, read this job profile.
What Do Oncology Nurses Do on a Daily Basis?
One thing about oncology nursing is that no single day is like the next. As a nurse who will be working with cancer patients of all ages, you will need a lot of heart and a lot of skills. What you will do will depend upon the health setting that you work in. According to the Cancer Treatment Centers of America, some of your main responsibilities as a specialist in this practice area include:
The review of patient's health history
Monitoring of the patient's health and emotional status
Review of imaging, lab work and pathology tests
Administration of medications
Collaboration with physicians and other medical professionals
Communicating with doctors behalf of patients
Teaching patients about cancer treatment options
Counseling patients and translating complex terminology
Creating health management strategies with patients
What is the Current Demand for Oncology Nurses?
Demand for nurses as a whole is very high, but each specialization area has its own projection for growth. Currently, the projection for growth in the specialty area is 19% by 2022. Since job outlook is so positive, it is a great field to enter while the demand for professionals outweighs supply. Add in the fact that the average wage for certified OCN's is $31.48 per hour, and you can see why many lean towards this specialty, according to Nurse Journal.
How to Become a Specialist
Caring for patients who have cancer can be very challenging and emotionally draining but also very rewarding. If you believe that you have the heart and the strength to work closely with patients who may have a limited time to live, you should consider training to specialize in the practice of oncology. Before you can work as a specialist, you will need to earn your Register Nurse license and gain experience in a clinical setting.
Once you have enough experience, you will be able to sit for your certification through the Oncology Nursing Certification Corporation. The corporation will require you to have one year of experience as an RN and 1000 hours of adult oncology nursing practice. Be sure that you look for opportunities where you can get this experience so that you are able to get certified as an Oncology Certified Nurse.
Related Resource: Cardiac Nurse
There are dozens and dozens of areas in nursing that you can specialize in to become a more attractive job candidate. If you want to push your career in the direction of oncology nursing, it is time to complete your training and get applicable experience. Once you have the experience and contact hours, you can get certified and find a high-paying position as an experienced oncology nurse.