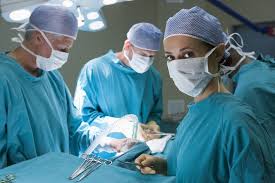 If you're interested in surgical care, but don't want to spend years in medical school to become a surgeon, consider working as a perioperative nurse. Also referred to as operating room nurses, perioperative nurses are RNs who specialize in caring for patients before, during, and after surgical procedures. Most perioperative nurses further focus their practice in a subspecialty, such as pediatrics, trauma, oncology, urology, cardiac, orthopedic, or neurosurgery. It's their duty to coordinate optimal patient care all through the surgical care continuum. According to the AORN, the average age of perioperative nurses in the United States is 53. As these RNs retire, perioperative nursing will be one of the seven fastest-growing specialties, according to Healthcare Traveler. Below is a brief job profile to help determine if becoming a perioperative nurse is right for you.
What Perioperative Nurses Do
Perioperative nurses have the primary responsibility of assisting the surgical team in planning, implementing, and evaluating invasive patient care. Many work as so-called scrub nurses to pass scalpels, forceps, clamps, and other surgical instruments to surgeons. Others are circulating nurses to help keep the operating room a sterile, safe environment. Perioperative nurses could also be RN first assistants and directly control bleeding or suture wounds. Perioperative nurses will interview patients before surgery to assess their condition, monitor vital signs, answer their questions, and calm their fears. During surgery, perioperative nurses serve as patient advocates to ensure the best possible treatment. Afterwards, they'll oversee patients' recovery, keep families informed, and provide tips for optimal at-home care.
Where Perioperative Nurses Work
RNs specializing in perioperative nursing can work in virtually any healthcare facility performing surgical or invasive medical procedures. The highest percentage of perioperative nurses are employed by state, local, and private hospitals within the surgical department. As technology advances, more perioperative nurses are being hired by ambulatory or day surgery centers where patients don't stay overnight. Others can find employment in physician offices, clinics, birthing centers, cardiac care units, and government agencies. Some may be traveling nurses and contract with different surgical centers. Most perioperative nurses work full-time, but irregular night and weekend hours may be required for emergency surgeries. Their day includes a lot of standing, bending, and cleaning to prevent infectious disease.
How to Become a Perioperative Nurse
Before stepping into the shoes of a perioperative nurse, you'll need to first become a registered nurse. Obtaining a hospital-based diploma or associate's degree in nursing (ADN) may be sufficient in some states. However, there's a strong preference for perioperative nurses educated with a Bachelor of Science in Nursing (BSN) from a four-year college. Taking courses related to medical-surgical nursing and operative care is suggested. After graduation, you must pass the NCLEX-RN exam for state licensing to practice. Most surgical departments require perioperative nurses have at least two years of experience in critical or emergency room care. Achieving the Certified Nurse Operating Room (CNOR) credential requires passing a 200-multiple choice exam.
Related Resource: Neonatal Nursing
Overall, perioperative nurses work in a multifaceted, fast-paced environment to care for patients of all ages who are undergoing surgical procedures. From patient preparation and anesthesia to sterilization and disinfection, perioperative nurses play a pivotal role in keeping the operating room running smoothly. Salary.com reports that perioperative nurses enjoy an above-average median yearly income of $70,591. After working as a perioperative nurse, RNs could advance as surgical nurse practitioners, nurse anesthetists, or operating room directors.