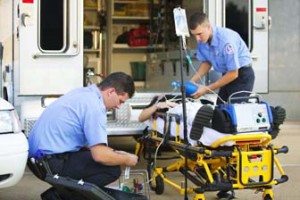 Many students interested in the healthcare field don't understand the difference between an EMT and a nurse. With so many allied health degrees available, it can be hard to keep track of the educational requirements, career options, and earning potential of every different option available to you. Luckily, enrolling in EMT or a nursing school is simple once you understand the two professions.
How To Become an EMT
Earning your EMT certification is one of the easiest ways to start providing patient care. You can complete your studies in less than a month by attending full-time, 40-hour weeks. If you need to work while studying pre-hospital care, you have plenty of options. You can attend a semester-long program during the evening or on weekends. No matter what program you choose, you'll learn basic anatomy and first aid, practice trauma and assessment on your classmates, and be required to pass a two-part test to get your state certification. You'll also complete one or two shifts observing local EMTs, but you won't be allowed to provide medical care to patients until after you have your certification.
How To Become a Nurse
Nurses require more training than EMTs. Earning your license as a practical nurse requires at least nine months of schooling, while becoming a registered nurse will take you two to four years. You'll complete clinical hours in hospitals and nursing homes and learn a wide range of scientific and medical knowledge, including drug dosage, mental health care and chemistry. Like EMTs, nurses must also pass an exam at the end of their studies before earning a nursing license; however, you'll be taking vitals and interacting with patients as soon as you start studying in a healthcare facility.
Career Options
As an EMT, your career can grow in several directions. With additional training, you can become a paramedic. You'll continue riding in ambulances, but you'll be able to administer intravenous medicine, read portable EKGs and provide more advanced treatment. You could also look for an entry-level job as a patient technician or assistant in an Emergency Room. Finally, training as an EMT will enhance your application to any advanced healthcare school, including nursing. As a nurse, you have almost limitless potential. You can earn a Master's in Nursing Administration and become a manager, study advanced clinical practice and open your own clinic, or travel from state to state as a short-term nurse. Unlike EMTs, who are limited to emergency healthcare, nurses can work in every area of a hospital, including Labor & Delivery, surgery, or oncology.
Earning Potential
The biggest difference between EMTs and nurses is the earning potential of the two fields. According to the Bureau of Labor Statistics, the annual median wage for paramedics and EMTs is $31,700. Keep in mind that number is pushed higher by paramedics, who earn more than EMTs. By contrast, nurses average $66,640 and more education can grow that number to over $100,000.
Related Resource: Women's Health Nurse
Nurses and EMTs both help people by providing skilled medical care. EMT school is a quick way to get experience in the healthcare field before committing yourself to more education. However, the major difference between an EMT and a nurse is the long-term flexibility and earning potential that nurses earn via their extra education.