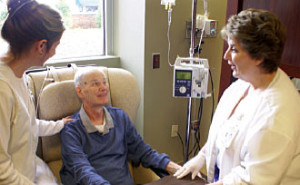 If your professional goal is to care for cancer patients, it is time to learn how to become an oncology nurse. Oncology nurses specialize in caring for patients with cancer and for helping with cancer prevention in patients who are particularly at risk for getting the disease. Since it is necessary to have a specialized knowledge in oncology to care for patients and to create management strategies, you will need to take a specific path to become an oncology nursing specialist. If you are not sure how to navigate down the straightest and quickest path, read this guide to learn what steps that you need to take.
Study To Become a Registered Nurse
The first step to specialize in oncology nursing is to study for your Bachelor of Science in Nursing degree, according to Discover Nursing. When you study for your four-year degree, you will take foundation courses and can select specific electives that pertain to cancer nursing. This coursework will help you start to build knowledge specifically around health concepts and preventative measures while also presenting the curriculum you need to complete to become a Registered Nurse.
Obtain Your RN License and Start Nursing
Once you hold your BSN degree, the next step will be to take the National Council Licensure Examination for Registered Nurses. Passing this uniform exam is required to become licensed for clinical roles in every state. You should also check with your state to see if there are unique licensing requirements or endorsements that you must test for before working in the state.
Get Relevant Work Experience in the Right Settings
After you pass the NCLEX-RN exam, you can start to get the work experience that you need in hospitals, health centers, physician offices, and cancer treatment centers. It will also be beneficial if you get experience in medical-surgical units, pediatric units or other settings where those with cancer are treated or seen. It would be best to work with the patient demographic you plan on specializing in. If you want to work with adult patients, work in the right units where you will be close to adults. If, however, you want to work in pediatric oncology specifically, look for opportunities with children's hospitals.
Further Your Education for More Specialized Knowledge
Now that you have clinical experience, you can go a step further and get more of a technical knowledge. Earning your master's degree in a specialized area of nursing will really help you compete for positions. It is best to study hematology and advanced practice curriculum so that you are equipped with the knowledge that you need to be a specialist instead of being a generalist.
Related Resource: Nursing Administration
Once you complete a graduate degree program, you will be eligible to test for a certification through the Oncology Nursing Certification Corporation. When you earn a certification, you will distinguish yourself from other nurses who want to work in oncology but who have not taken the time to showcase their knowledge of caring for cancer patients. It can be a very challenging specialty to work in that takes a strong and compassionate person. No matter how challenging, it is a fulfilling area of medicine to work in if you are the right fit. Now that you know how to become an oncology nurse, it is time to decide if you are ready to take the steps.