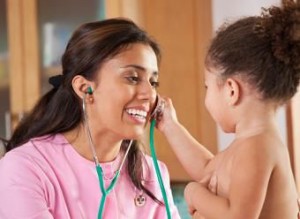 Generally speaking, a pediatric nurse is a nurse who specializes in treating and caring for children. Pediatric nursing can nevertheless take place in a variety of care settings, and there are many ways to enter this career. This article provides an overview of the educational pathways to pediatric nursing, different pediatric nursing specialties, and related employment prospects.
How to Become a Pediatric Nurse
As a subfield of general nursing, a prospective pediatric nurse should first take steps to become a registered nurse (RN). There are several possible paths to becoming an RN, including an associate's or bachelor's degree in nursing. For those who already have a bachelor's degree in a different field, it may be possible to complete a specialized nursing program. In addition to education requirements, each state maintains its own licensing standards for nurses. The National Council of State Boards of Nursing (NCSBN) maintains information on state nursing boards and certification procedures for each jurisdiction. After becoming a registered nurse, there are numerous ways to develop a nursing specialty. The Pediatric Nursing Certification Board (PNCB) offers certification in pediatric nursing for licensed RNs with significant pediatric nursing experience. In order to apply for this certification, RNs must have at least 1800 documented hours of pediatric nursing clinical experience within the past two years; for nurses who have been working in pediatric nursing for at least five years, it is possible to qualify with just 1000 documented hours of relevant clinical experience in the preceding two years. In addition to these eligibility requirements, you must also take and pass PNCB's pediatric nursing exam.
Pediatric Nursing Specialties
Many pediatric nurses develop sub-specialties within pediatrics. For instance, those interested in primary care may continue their education and training to become a pediatric nurse practitioner, a career that requires a graduate degree. Other possible pediatric specialties include surgical nursing, allergy and asthma care, neonatal nursing, oncology, cardiac care, and child advocacy. The PNCB offers certification in sub-specialties such as emergency room nursing, mental health, and pediatric nurse practitioner practice. The American Nurses Credentialing Center (ANCC) also offers certifications in neonatal nursing, mental health, and public health. You should check with your licensing board to determine which specialty credentials are recognized in your jurisdiction.
Jobs Available in Pediatric Nursing
Pediatric nurses work in a variety of institutional settings. In addition to hospitals and primary care offices, pediatric nursing positions are also available in schools, mental health services, rehabilitation facilities, home health care services, social services departments, public health organizations, and government offices. Nurses interested in providing clinical care are more likely to work in hospitals and primary care facilities, while school nurses and social workers may be more focused on public health and child advocacy.
Related Resource: Become an Oncology Nurse
Pediatric nursing is a dynamic field with opportunities for many different specializations. It also offers flexible educational pathways to certification, and there are many professional organizations that can provide career support and continuing education. If you are interested in a nursing career that focuses on the care of children, consider taking steps to become a pediatric nurse.