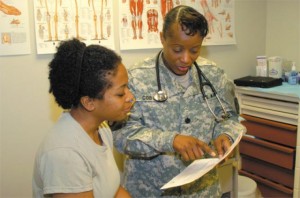 Each branch of the United States military offers undergraduates multiple opportunities to obtain healthcare training and degrees in less time and with less debt than traditional healthcare programs. The benefits and programs vary from department to department, so students with serious interest should contact the military branch in which they have an interest.
Army Nursing Programs
Army Active Nurse Corps Program
The U.S. Army offers several nursing programs. Graduates have the opportunity to serve with world class medical professionals in modern medical facilities. The Active Nurse Corp Program is open to undergraduate students who are pursuing a Bachelor of Science in Nursing from an accredited nursing program.
The U.S. Army includes financial incentives for students in the program, including a $5000 bonus when a student enters the program, and a $5000 bonus when they graduate. Students also will receive a $1000 monthly stipend while they are in the program.
The Army does have eligibility requirements for participants. The Bachelor of Science degree must be completed in 6 to 24 months and students must pass the NCLEX-RN examination prior to receiving their commission as an Army Nurse Corps officer. All participants must be U.S. Citizens. Prior enlisted Army Soldiers must meet additional requirements.
Army Reserve Nurse Corps Programs
Participants enrolled in this program may receive monthly stipends of $1900 or more and incur one year of Army service for every six months of program participation.
Additional Opportunities for Army Service Members
Active or Reserve Army enlisted Soldiers are eligible to attend college full-time in the AMEDD Program. Students can expect to receive full pay for service as well as up to $9000 in tuition assistance each year and up to $1000 for books per year.
Naval Reserve Officers Training Corps (NROTC)
The U.S. Navy offers officers a nursing training option within the Naval Reserve Officers Training Corps (NROTC). While this program is available to any student interested in a Bachelors of Science degree, it is only available at universities with an NROTC affiliation. This is a scholarship program and selectees must major in a nursing degree program leading to BSN.
U.S. Marine Corp Training
Students interested in becoming a Marine Corp Nurse or in training benefits available should refer to the Naval Reserve Officers Training Corps information as described above.
U.S. Air Force Nursing Opportunities
Students who are interested in joining the Air Force as a nurse should plan to participate in the U.S. Air Force ROTC program. The Air Force nursing scholarship program is a competitive program and candidates must be prepared to meet multiple requirements, including passing qualifying tests.
Whether a student is already enrolled in a nursing program and is looking for additional opportunities and financial assistance, or is simply considering becoming a nurse, the U.S. Military offers numerous programs that make getting a healthcare degree easier. Each branch of the U.S. Military has its own programs designed to meet its unique requirements. No matter which program a student chooses, they will certainly find that obtaining a nursing degree with military aid can be easier and faster.