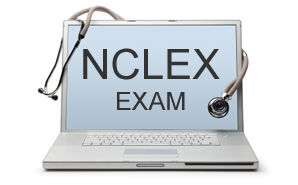 Developed by the National Council of State Boards of Nursing (NCSBN), the NCLEX Exam is the national licensing exam that all nursing students must take and pass in order to qualify as registered nurses (RNs) or as licensed practical nurses (LPNs). This is a national exam, so it's administered on behalf of the nursing boards of all US states and territories as well as the District of Columbia. It is created to test the skills and knowledge of nursing students to make sure that they are adequately prepared to enter the nursing profession.
Regulated Standards of Nursing
One of the important things about the NCLEX exam is that it provides a regulated uniformity in nursing standards to ensure that patients receive adequate levels of care. The National Council was formed over 35 years ago to help regulate nursing standards. Even though there is only one test (or two versions of the one test: the NCLEX-RN and the NCLEX-PN) for all nursing students, states can still set their own standards regarding nursing practice. Still the bottom line is that all nurses within the U.S. will have passed this examination.
Content and Form of the Exam
All of the questions for the exam are written by current nursing teachers. Once the questions are written, they also go through a process of item review by other nurses chosen for this task. Nurses who participate in this writing and review process often receive continuing education credit. There are different numbers of questions for different categories that the test assesses. Some of those categories include Safe and Effective Care Environment, Psychosocial Integrity, Physiological Integrity, and Health Promotion and Maintenance. Each of the areas gets a certain percentage of coverage.
The exam is taken via computer and test takers are allowed five hours to complete it. There are two scheduled breaks during the five hours. If other breaks are taken, time will continue to be counted and you will end up with less than the allotted five hours to complete the exam. Failure to answer all of the questions within the time period does not necessarily mean a failing grade, as an assessment would be made regarding competency level based on the answered questions. One of the hardest parts of the tests may be waiting for your results, as it is not set up to provide test takers with an immediate pass or fail. Results are looked at and then sent on to the specific board with whom you are trying to get a license. It usually takes about four weeks to get results, though this may vary from state to state.
Related Resource: Traveling Nurse
To find out testing locations and information about how to register for the exam, you can visit the website for the National Council of State Boards of Nursing. There you will also find information on the pass rates for different kinds of nursing candidates over the past five years. The organization also provides other helpful information, such as content examples and writing guides, that will be an important asset for students who are preparing to take the NCLEX exam.