If you're a registered nurse interested in pursuing a position healthcare management or administration, you may be wondering about the possibility of getting both an MSN and MHA degree. The dual degree can provide you with a combination of skills that will make your contributions potentially even more valuable than they would be if you completed only one of the degrees.
Advantages of Dual Degrees
Many nurses are discovering the value of pursuing graduate level degrees, as advanced education often opens new career doors. Many RNs who hold a BSN go on to pursue a Master of Science in Nursing (MSN) degree, which provides the clinical skills they need to become advanced practice nurses in a variety of disciplines. The MSN degree, however, is often combined with other degrees in dual degree programs. Some of the most common are the MSN/MPH (Master of Public Health), MSN/MBA (Master of Business Administration) and MSN/MHA (Master of Health Administration).
The advantage of a dual degee is at least twofold. One advantage is that a nurse can go more in-depth in learning a complementary set of skills. For instance, an MSN student who is only going for the MSN might choose to concentrate in health administration or health systems management, but will likely not be able to take as many classes or gain as many skills as a student who is pursuing the second MHA degree. Practically speaking, the dual degree also provides the advantage of allowing a student to complete two degrees more quickly in combination than singly.
What the MSN/MHA Can Help Prepare You to Do
The MSN and MHA work well in tandem because the graduate who possesses both degrees can use nursing skills not just in direct patient care but in leadership, management and consultation positions. A nurse with an MSN/MHA will be in a good position to supervise and train other nurses, manage a healthcare organization or health system, develop programs or train teams in a variety of healthcare environments, teach or develop curriculum for training healthcare workers or supervise research. Having nursing experience and skills is a plus for a healthcare administrator who often must take a lot of information into account when making decisions that can affect a whole organization.
Types of Jobs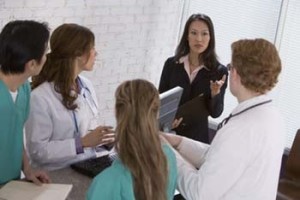 The types of jobs available for someone who holds an MSN/MHA can vary a great deal since almost all types of healthcare organizations, both large and small, need careful administration. In an administrative position, you will need to call not just on your nursing skills, but on business skills, which is why your MHA degree will provide classes in subjects like financial management, informatics, strategic planning, law and ethics. Hospitals, nursing homes, outpatient clinics, mental health facilities and non-profits groups, including those who help to form healthcare policy, are just some of the places where you might end up working.
With the growing complexity of healthcare in the U.S., the need for good administrators is growing. Most people who pursue an MHA have some sort of health-related background, but not all have trained as nurses. It's the combination of skills resulting from your MSN and MHA that might make your contributions to your next job potentially unique and helpful.