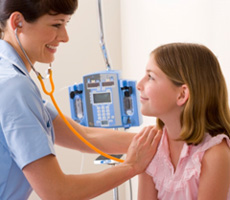 The healthcare industry is burgeoning and people considering healthcare careers may want to investigate becoming a clinical nurse specialist. These professionals assume many of the duties of physicians and are a vital link for many patients to consistent health services.
What is a Clinical Nurse Specialist?
A clinical nurse specialist is a nurse who specializes in one particular aspect of nursing. According to Explore Health Careers these aspects are:
• Population – Consists of a demographic division such as women's health or pediatrics
• Setting – Refers to the physical area where the nurse works, like an ER or surgical suite
• Disease – Nurses specialize in working with in a particular area, such as heart problems or cancer
• Type of care – Refers to the subject area the nurse works in, such as rehabilitation or mental health
• Type of Health Problems – Nurses specialize in wound care or in stress related problems
Clinical nurse specialists often diagnose illnesses and treat them, something that formerly was relegated to a physician. In some clinics and rural areas where there is a dearth of physicians, clinical nurse specialists may become a patient's primary care provider.
What Do Clinical Nurse Specialists Do?
Of course, their particular duties will depend upon their areas of specialty. In general, though, these professionals can provide direct patient care. They may diagnose illness or a health condition, devise a plan of treatment and treat the problem. Clinical nurse specialists also train, supervise and mentor other nurses. They work on teams of professionals to review and adjust patient treatment and help health facilities develop standards of practice.
How Do I Become a Clinical Nurse Specialist?
First, you must earn a Bachelor of Science in Nursing, which is a four-year program. It is suggested that students take basic computer literacy classes in the course of earning their bachelor's degree. In addition, because the graduate programs are selective, it is important to keep your GPA up during your undergraduate studies. Many graduate programs only admit candidates with GPAs of 3.0 or better. Education Portal suggests that after completing the degree you should get licensed as a nurse, which involves passing an exam.
After working as a Registered Nurse for two years, you should pursue your Master's in Nursing degree, specializing in an area of interest. The graduate degree usually takes two years to complete, unless you earn dual degrees or additional specialties. In that case it might be longer. After obtaining the Master's in Nursing degree, nurses should apply for certification. This credential lasts for five years. Finally, apply for an advanced practice license from the state where you work. It is a good idea to get a prescription authority at this time as well. The median salary for clinical nurse specialists is $50,800 to $100,000.
Related Resource: Nurse Practitioner
People wanting to work in the healthcare field might consider careers in this profession, because it is challenging and service oriented. It also may be tailored to involve direct service to patients or to educate and coordinate nursing staff. Those who earn doctorates can be involved in policy-making at the highest level. In addition, because of the current shortage of healthcare personnel, the job outlook is bright for a clinical nurse specialist.