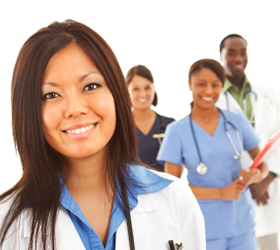 There have been many changes in healthcare in recent years, and one positive change is the increasing numbers of advanced practice registered nurses (APRNs). It can be difficult for physicians to meet the growing demand for primary healthcare, and APRNs help to stand in that gap. An APRN is a registered nurse who has gone on to complete at least a master's degree. There are several types of APRNs, all of whom help provide patient care in important and primary ways.
The Four Kinds of APRNs
According to The Future of Nursing, the four kinds of APRNs are: Nurse Practitioners (NPs), Clinical Nurse Specialists (CNS), Certified Nurse Midwives (CNMs), and Certified Registered Nurse Anesthetists (CRNAs). All four types require an advanced degree. Of the four, the most common is the nurse practitioner. There are currently over 158,000 NPs working in the United States. Nurse Practitioners can do many things that a doctor can do, including giving physicals, diagnosing illnesses, prescribing medications and ordering lab work. Clinical nurse specialists sometimes work in acute or chronic care, but they may also specialize in a host of fields, including those connected to a very specific patient population such as gerontology, pediatrics, or patients suffering from a certain type of illness, such as diabetes. The NP and CNS roles have much in common, but if you research and read about each role, you will also discover differences that may help you decide which role is right for you.
The best paid role among the APRN roles is generally that of CRNA, since these nurses are often the main givers of anesthetics. This is a very specific role. A CRNA can administer anesthesia in all sorts of situations in which it is needed, including surgical and obstetrical cases. A CNM is an even more specific role. These nurses work to give primary care to women patients who are pregnant or in need of other gynecological care. There are currently about 18,000 CNMs practicing in the U.S., making it the least common of the four APRN jobs.
Education for APRNs
All APRNs share the common base of registered nursing. You must be a practicing, licensed RN in order to work for an advanced practice degree. Although some RNs do not hold a bachelor's degree, that is becoming the more clear standard for RNs, and it will be essential to have one in order to go for a graduate degree. All advanced practice nurses hold at least a master's degree, and some go on for a doctorate. In every APRN role, it's not just the degree that qualifies you, but a combination of degree, certification, and a certain level of clinical hours. Each APRN has its own professional association or society where you can learn more about the specific role and what is required in order to gain the advanced degree and certification you need in order to practice.
Related Resource: Women's Health Nurse
With 58 million Americans currently living in areas considered to have a shortage of primary care, the APRN role will no doubt continue to remain important, according to the Kaiser Family Foundation. These jobs are demanding but can be practically and financially rewarding. If you are interested in a long-term nursing career, becoming an advanced practice registered nurse is a goal you should consider.