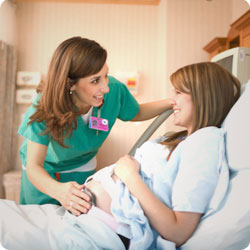 While the term midwife may seem somewhat archaic in today's modern world, a certified nurse midwife is actually a highly trained medical professional who plays a vital role in the delivery of women's health care. Registered nurses who have completed advanced, graduate-level training, certified nurse midwives work with obstetrician-gynecologists to offer quality reproductive health care to women throughout their lifetimes.
What Does a Certified Nurse Midwife Do?
The span of a certified nurse midwife's responsibilities is much wider than many people understand. Certified nurse midwives are independent health care providers; they have the authority to write prescriptions in all 50 states. The general public typically knows that these specially trained registered nurses assist obstetrician-gynecologists in caring for women throughout pregnancy, childbirth and the postpartum period. But, people often are unaware that certified nurse midwives also provide female patients with regular health services like annual gynecological exams, reproductive health exams and menopausal care. While certified nurse midwives do include the exhilarating experience of assisting in the delivery of babies amongst their duties, it's a small part of the job description. In fact, the vast majority of certified nurse midwives' time is devoted to delivering basic preventative care. According to the American College of Nurse Midwives, nearly half of all practicing certified nurse midwives reported reproductive care as their main professional responsibility; one-third reported primary care was their main task.
What are the Educational Requirements to Become a Certified Nurse Midwife?
A great deal of education is required to become a certified nurse midwife. Typically, midwifery programs require participants to be registered nurses with a Bachelor of Science in Nursing degree. A few programs do function as bridge programs that allow registered nurses who only hold associate degrees to complete their bachelor's degrees as part of the midwifery program. Other select programs are open to people who hold a bachelor's degree in an area other than nursing; participants become registered nurses during the course of their studies. Regardless of its requirements for entry, a midwifery program is a demanding graduate-level program that offers specialized training in topics related to reproductive health and childbirth. Quality programs will be accredited by the Accreditation Commission for Midwifery Education.
What Is Necessary to Complete the Certification Process?
In order to earn to become certified, graduates of nurse midwifery programs must pass a national exam administered by the American Midwifery Certification Board. To qualify to sit for the exam, candidates must be registered nurses who hold a minimum of a master's degree. Once they pass the exam, the certification is good for five years. To maintain their certification, certified nurse midwives must complete three American Midwifery Certification Board certificate maintenances modules, complete 20 hours of continuing education, pay their annual dues and complete a recertification application appropriately.
What are the Job Prospects for Certified Nurse Midwives?
Like most professionals who pursue careers in the health care industry, nurse-midwives are in high demand and therefore enjoy fantastic career prospects. According to the U.S. Bureau of Labor Statistics, the median salary for nurse practitioners was just shy of $90,000 in 2012. With increasing demand for services, jobs are expected to grow by 29 percent between 2012 and 2022.
Related Resource: Pediatric Nurse
Nurse midwives have long played a respected role in delivering quality health care to their female patients. Today, a certified nurse midwife is a highly educated advanced practice nurse who works beside obstetrician-gynecologists to provide women with guidance regarding basic reproductive health and care during all stages of pregnancy.