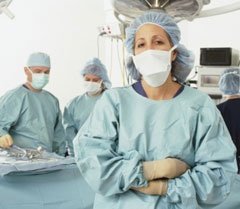 As a type of advanced practice nurse, a nurse anesthetist is a highly respected medical professional who has completed specialized training that allows them to administer anesthesia to patients who need it.
What Does a Nurse Anesthetist Do?
Nurse anesthetists can trace their professional ancestry back more than 150 years to the Civil War battlefield hospitals where nurses administered anesthesia to wounded soldiers. Today, these professionals administer anesthesia, monitor patients who are under anesthesia and watch over patients until they have recovered from being under. They practice in hospitals, clinics, surgical centers, doctors' offices and dentists' offices. They can be found working with a wide array of medical professionals, including general surgeons, plastic surgeons, anesthesiologists, podiatrists, ophthalmologists, obstetricians and pain management doctors.
How Does Someone Become a Nurse Anesthetist?
Before becoming a nurse anesthetist, a person must first become a registered nurse. While students can become a registered nurse by earning a diploma, an associate degree or a bachelor's degree and passing the national exam for licensure, individuals interested in becoming any type of advanced practice nurse are advised to earn a bachelor's degree. Once they have amassed a little experience, registered nurses who would like to become nurse anesthetists can continue their education and earn a master's degree by completing a specialized graduate program.
What is a Certified Registered Nurse Anesthetist?
Certified registered nurse anesthetists have met specific requirements that demonstrate their professional capabilities. According to the American Association of Nurse Anesthetists, a professional organization with nearly 48,000 members, individuals who wish to qualify for this credential must hold an appropriate bachelor's degree, be a licensed registered nurse and have at least one year of experience in providing acute care. They must also have successfully completed an accredited nurse anesthetist program and passed a national certification exam. To maintain the credential, they must stay current in their field by meeting continuing education requirements, retain the appropriate licensure and document their practice.
What Are the Job Prospects for Nurse Anesthetists?
According to the Bureau of Labor Statistics, nearly 37,000 people were employed as nurse anesthetists in 2014. Earning a mean wage of roughly $76 an hour, they brought home a mean annual pay of close to $159,000. With the nation's aging population creating a growing demand for quality health care, nurse anesthetists are expected to enjoy numerous professional opportunities. Experts predict that the field will see a 25 percent increase in employment opportunities in the decade between 2012 and 2022, a rate that is faster than average. If this holds true, it means that there will be nearly 44,000 positions for nurse anesthetists in 2022.
Related Resource: Become a Forensic Nurse
As a type of advanced practice nurse, nurse anesthetists are highly educated professionals who practice their specialty with a fair amount of autonomy. In many rural areas, they are the only professionals available who are able to administer anesthesia. Individuals intrigued by the notion of a challenging career that requires compassion and commitment may find the possibility of becoming a nurse anesthetist very appealing.