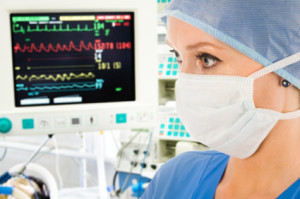 While what a critical care nurse does depends on their specific health care organization, all critical care nurses share the basic responsibility of helping patients with critical needs.
Intensive Care RN
Intensive care RNs deliver safe, quality and individualized care to their patients. They must follow standard nursing procedures and always provide improvement suggestions. They are responsible to assess, treat and care patients as assigned. To accomplish this, they access and analyze the patient's care plan and activities in collaboration with other health care team members. They direct and delegate the care delivered by subordinates, which involves providing advice and correction. They work closely with all health care providers to facilitate and coordinate quality, efficient care services. Intensive care RNs are expected to have at least one year of experience as an RN in a critical care unit and hold current critical care nurse (CCRN) certification.
Cardiology Unit RN
RNs who work in critical care cardiology units will be accountable for the health status and needs of their patients. They interpret health data, make critical decisions and promote preventative health practices. In order to successfully accomplish their job, they continually collaborate and communicate with cardiology specialists and interdisciplinary health care team members. Cardiology RNs should have previous experience as a medical surgical staff. They must be able to manage three to four critical care patients who rely on complex medical devices to function, such as ventilators and blood pressure monitors. They are expected to obtain and maintain standard certifications, such as the American Heart Association's Advanced Cardiovascular Life Support (ACLS) credential.
Medical/Surgical Trauma Unit RN
A medical/surgical trauma Unit RN will provide the clinical and therapeutic services needed for the care of seriously ill and critically injured patients. This will include continuous observation of clinical conditions and frequent measurements of standard indicators and outcomes. These RNs work with patients who have and are planning to have major procedures and therapies. RN's in medical/surgical trauma units must be familiar with complex techniques, such as dysrhythmia recognition, ventilator management and hemodynamic monitoring. These RNs are responsible for planning, implementing, evaluating and documenting all aspects of patient care. This includes delegating appropriate tasks to assisting personnel and supervising their actions.
Critical Care Transport Nurse
Critical care flight or transport nurses provide care and treatment to acutely or chronically ill or injured patients who transported via air and ground. They are tasked with providing high quality care to patients in mobile environments under the direction of RNs and physicians. They evaluate patients of all ages and provide therapeutic and emergency interventions. They then prepare patients for transportation via vehicles or helicopters from hospitals or accident scenes. They must have excellent communication skills because they collaborate with drivers, paramedics, coworkers, law enforcement and emergency response personnel. They monitor patients during transport to detect status changes and follow established protocols when responding to patient health emergencies.
Related Resource: Advanced Practice Registered Nurse
What a critical care nurse does depends on their specific job and unit, but all critical care nurses provide essential emergency care services to weak and vulnerable patients.