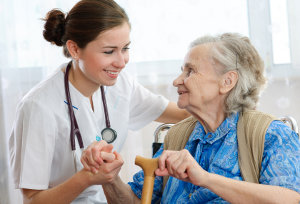 As a result of America's burgeoning demand in healthcare from a diverse aging population and societal changes, there are a wide range of different types of nursing specialties that are growing nationwide. In fact, the employment of registered nurses is expected to grow much faster than average at the rapid rate of 19%, thus creating 526,800 new jobs before 2022, according to the Bureau of Labor Statistics. For current nurses and career changers looking to find their professional niche, the following are some of the top in-demand nursing specialties available.
Advanced Practice Registered Nursing
After completing a master's degree or doctoral degree program with a variety of clinical skills, advanced practice registered nurses play a more prominent role in direct patient diagnosis and treatment with or without the guidance of a licensed physician. Advanced Practice Registered Nursing includes the highly esteemed roles of Clinical Nurse Specialist, Nurse Practitioner, Nurse Anesthetist, and Certified Nurse Midwife.
Critical Care Nursing
Within intensive care units and other emergency care settings, critical care nurses are responsible for providing care to critically ill or injured patients with potentially life-threatening medical conditions. Critical care nurses remain vigilant with constant monitoring to ensure that patients whose conditions make their overall health particularly unstable receive the best care.
Geriatric Nursing
Due to the aging baby boomer population, geriatric nurses are in very high demand for working with elderly patients suffering from a wide range of acute or chronic health concerns. From their expert understanding of complex medical treatments to their compassion in helping family members develop at-home care plans, geriatric nurses specialize in providing care for diverse patients in late adulthood.
Neonatal Nursing
On the other end of the age spectrum, neonatal nurses are responsible for supporting the emergent medical needs of a hospital's youngest patients with highly specialized training. Not only do neonatal nurses support the individual care plan of newborns with health challenges, but they also help parents who are struggling with the medical realities of caring for an infant.
Nursing Administration
In order to create a stronger healthcare system in changing times, nurse administrators are essential for providing strong leadership for a well-prepared nursing workforce to provide the best patient care possible. As a wearer of many hats, nurse administrators establish care protocols, review records, update technology, arrange training opportunities, and manage a team of nurses in a specific health department.
Oncology Nursing
Ranging from nuclear medicine to palliative care, oncology nursing is focused on working with cancer patients as well as their families through an extremely challenging time. While some oncology nurses choose to specialize in diagnostics and cancer treatments, others select a concentration in working with families as a medical educator or even home healthcare nurse.
Psychiatric Mental Health Nursing
Through a blend of nursing with psychology, psychiatric mental health nurses often work in residential and outpatient care centers to offer care to patients struggling with mental illness. As the number of diagnosed psychiatric disorders continues to rise, mental health nurses are increasingly in demand for helping patients meet their treatment goals for improved well-being.
Related Resource: Doctor of Nursing Practice
Overall, this list only scratches the surface of the many specializations available by covering some of today's most in-demand and highest paying nursing specialties. When choosing among the different types of nursing specialties, be sure to remain honest about your career interests and do your homework in researching the various nursing education programs available.