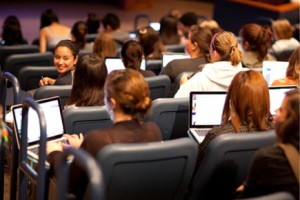 Due to frequent advances in medical treatment protocols and associated changes in healthcare regulations, many state boards of nursing rely on Continuing Education (CE) requirements for an RN to maintain certification licensing. These state boards determine the content and number of CE hours that must be accomplished within a certain time frame. The anticipated outcomes of CE studies include broadening an RN's depth of knowledge about pathologies and trending healthcare issues, as well as expanding nursing competencies to provide state-of-the-art patient care services.
Scope of CE Requirements for an RN
Continuing education requirements for registered nurses vary widely according to the state of employment. License renewal periods range between one to three years for acquiring anywhere between five and 45 CE clock hours. Continuing education credits can come from a combination of accredited coursework and approved practical application experiences. Some states may also allow other options to satisfy CE requirements such as earning national certification credentials, publishing articles for professional nursing journals, attending nursing conferences or completing a supervised nursing project in a specialty area.
Accredited CE Programs
Registered nurses can attend accredited CE programs at numerous institutions of higher learning through traditional on-campus classes or distance learning formats. Opportunities for earning CE credits may also be made available through healthcare employee programs that use in-house staff in collaboration with college instructors to provide content training. Additionally, many states accept coursework from credentialed, online home-study programs.
CE participants are responsible for checking out which programs are allowed by their state board for renewal of RN licenses. Accreditation agencies to look for when considering CE options include general nursing groups such as the American Nurses Credentialing Center or specialized nursing organizations like the Accreditation Board for Specialty Nursing Certification or the American Association of Critical-Care Nurses.
Types of CE Studies
Continuing education content for registered nurses focuses on issues in healthcare that are trending locally and nationwide. These can include diagnostic and treatment trends, public healthcare concerns, emergency management issues and medical ethics. They are often influenced by new regulations put out by federal agencies such as the Centers for Disease Control and Prevention. Continuing education for registered nurses can include many study topics, such as:
Prevention of medical errors
Control and prevention of HIV and AIDS
Cultural and demographic influences on health
Pain management
Substance abuse
Domestic violence and abuse
Mental health and behavioral issues
Ethical and legal standards in nursing
Patient confidentiality
Healthcare information systems
Management and supervision
Therapeutic interventions
Working with patients and families
The American Nurses Association Code for Nurses states that nursing professionals are responsible for maintaining competency in practice. To help nurses achieve this goal, many state boards of nursing collaborate with healthcare employers, professional nursing organizations and higher education institutions to create continuing education programs that promote trending healthcare information and opportunities for putting cutting-edge patient care services into practice. As a result, CE requirements for an RN to maintain licensing certification help to ensure the competency of a professional nursing workforce that can handle 21st-century healthcare demands.