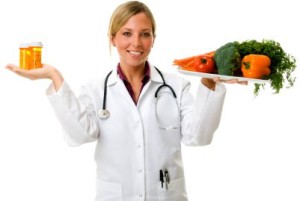 Within the field of nursing, a holistic nurse takes a different approach from traditional medicine by using complementary treatments and methods to address a patient's health as a whole. By definition, "holism" refers to the process of understanding something as a whole unit, and in medicine, this approach typically means addressing a person's medical issues as they relate to all aspects of that person, including mind, body and spirit. Holistic nursing is a specialty that demands certification and training. In today's medical field, the demand for holism is increasing as people look for ways to avoid costly traditional medicines and surgeries.
Defining the Holistic Approach
Medical practitioners who utilize holism will take into account not only a person's symptoms or current complaints but other lifestyle factors as well. In an article outlining the role of holistic nursing, the National Student Nurses' Association notes several important factors in a holistic diagnosis, including: patterns of family illness, social support issues, structural and cultural issues, stress management, lifestyle choices, and values and belief systems, among others. Because holism believes that the human body can heal itself in many ways, holistic practitioners also encourage patients to take an active role in the healing process. Individual responsibility plays an integral role in holism. Contrary to popular belief, holism also embraces traditional medicine in certain situations. The goal is to help patients as a whole, which may include a combination of "complementary modalities" and traditional approaches. Complementary modalities include relaxation techniques, biofeedback, journaling and other similar practices.
Education and Training Requirements
According to the American Holistic Nurses Credentialing Corporation, holistic nursing believes that "dynamic mind-body-spirit interactions are ongoing and impact a person's ability to grow and heal" and that a nurse who practices holism should help people "to live their lives as fully as possible, in all situations." The AHNCC is the only credentialing board responsible for the certification of holistic nurses, but nurses can specialize in holism while attending a nursing program. More nursing schools across the country are adding holistic courses and certifications as the demand for holism increases. Currently, a holistic nurse can become credentialed as a generalist or an advanced practitioner through the AHNCC. To earn certification, a nurse needs to pass an exam and meet other necessary prerequisites, including RN licensure and holistic experience.
Demand for Holism
The NSNA asserts that the demand for holistic approaches will continue to increase over the next few decades as more people turn to alternative treatments. As of today, more than 42 percent of patients seek complementary medicine, which equates to about $12.2 billion in out-of-pocket spending. As the trend continues, it's expected that more insurance providers will offer coverage for alternative medicine while more individual practices will hire holistic nurses to meet the demand. Nurses who pursue this specialty may be situated for greater job security as more people seek out alternative treatment approaches for medical issues.
Like other medical professions, nursing is always evolving to meet the demands of the public. Holistic nursing offers a unique approach, treating patients as whole individuals and addressing long-term problems through proactive mind-body-spirit methodologies. For those who enjoy working with patients on different levels to treat a wide range of medical issues, becoming a holistic nurse would prove a rewarding career choice.