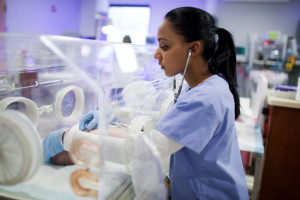 Neonatal nursing is a health care specialty that only deals with newborn infants who have minor or major health problems. The neonatal period is technically limited to the first month of life, but neonatal nurses may take care of infants with chronic conditions until they reach 12 months. The majority of neonatal nurses take care for infants from the time they are born until they are discharged from the hospital.
Neonatal Nursing Levels
The American Academy of Pediatrics (AAP) provides the standard classification levels for neonatal care. Level one involves standard care for healthy babies, while level two provides special care for sick or slightly premature newborns. These infants may need special services or an extended hospital stay before they can be safely discharged. Level three infants need complex technology to survive, such as feeding or breathing tubes. These newborns live in neonatal intensive-care units (NICUs). Approximately 90 percent of neonatal nurses work in NICUs. Level four newborns need the highest level of care from resident neonatologists and neonatal surgeons.
Neonatal Nursing Job Description
Neonatal nurses will manage care for neonatal patients with complex health care issues. This involves monitoring, assessing and evaluating care and disease developments. Neonatal nurses must act as case manager for newborns and develop individualized nursing care plans. They must also educate and interact with parents and caregivers on a daily basis. They act as a resource to fellow health care professionals and provide ad hoc consultations as needed. Neonatal nurses establish priorities for patient care, classify acuity levels and implement appropriate care measures based on medical.
What are the Job Requirements?
The minimum requirements to become a neonatal nurse includes a bachelor of science in nursing degree (BSN), an RN license and advanced training, which means industry standard certification. This includes intensive care and neonatal resuscitation certifications. The American Association of Critical-Care Nurses (AACN) offers their well-recognized Acute/Clinical Care Nurse Specialist (CCNS) certification for nurses who work in pediatric or neonatal units. In order to become an official neonatal nurse practitioner (NNP), students must have a master's degree, such as a Master of Science in Nursing (MSN) degree. The majority of medical schools offer NNP degrees through Advanced Practice Nursing (APN) programs.
What are the Education Programs Like?
NNP degree programs will teach students about advanced neonatal health assessments, which will develop the skills and knowledge needed to perform complex and comprehensive health and gestational evaluations. Students must learn how to properly collect health history data, perform physical assessments and interpret lab and test results. Neonatal nursing coursework will focus on the theories and practical skills regarding neonatal growth and development. Students will learn everything from sleep/wake cycles to lab screening to normal neonatal problems. Neonatal pathophysiology classes will train students how to manage restorative care and clinical assessments for high-risk neonates and infants.
Related Resource: Critical Care Nurse
Students who wish to become a neonatal nurse practitioner should visit the National Association of Neonatal Nurses' website to learn more.