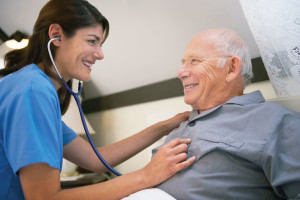 When choosing among the various RN specialties, you may want to consider becoming a pulmonary nurse. Also referred to as respiratory nurses, pulmonary nurses focus their practice on caring for patients presenting acute or chronic breathing problems. Proper treatment is vital since medical conditions impacting the trachea, bronchi, lungs, and diaphragm can be fatal. Pulmonary nurses work with patients of all ages who suffer from bronchitis, pneumonia, asthma, COPD, emphysema, cystic fibrosis, tuberculosis, and lung cancer. Pulmonary nursing is an in-demand field since the aging baby boomer population has an increased risk for respiratory troubles. The Bureau of Labor Statistics reports that the overall employment of RNs will grow by 16 percent through 2024. The following is a brief job profile to determine if becoming a pulmonary nurse is right for you.
What Pulmonary Nurses Do
Pulmonary nurses are primarily responsible for treating patients with respiratory illnesses in an effort to regain optimal lung functioning. Nurses will record patients' medical histories, monitor breathing, measure lung capacity, and discuss symptoms. With a pulmonologist or respiratory therapist, nurses will help develop and implement an effective treatment plan. Their duties may include administering medications, managing airways, checking IVs, setting up ventilators, teaching patients to use nebulizers or inhalers, and recording patient progress. Pulmonary nurses may also assist with pain management for lung cancer patients. Education is another big portion of their job, so pulmonary nurses will advise patients to quit smoking, exercise regularly, and avoid pollutants.
Where Pulmonary Nurses Work
In this patient-facing RN position, pulmonary nurses can select employment in a variety of healthcare organizations. Pulmonary nurses most often work in hospitals with patients suffering from acute or critical respiratory problems. Many are employed in private practices and physician offices operated by pulmonologists. Pulmonary nurses could also find jobs in clinics, home health services, long-term rehabilitation facilities, nursing homes, and assisted living centers. Depending on their work setting, pulmonary nurses could further specialize in pediatric or geriatric respiratory nursing. Most are employed full-time, but irregular night and weekend hours could be required for 24/7 care in hospitals. Pulmonary nurses spend long periods of time standing and can be exposed to illness.
How to Become a Pulmonary Nurse
Specializing as a pulmonary nurse requires you to first become a registered nurse. Most states offer three routes to RN licensure: a one-year nursing diploma, two-year associate's degree in nursing, or four-year Bachelor of Science in Nursing. Aspiring pulmonary nurses are strongly encouraged to obtain a BSN for the best clinical preparation. Completing training for cardiopulmonary resuscitation is essential. After graduation, you'll qualify for taking the National Council Licensure Exam (NCLEX-RN). Gain two or more years of experience with critically ill patients before advancing into pulmonary nursing. For faster advancement, pursue the Certified Pulmonary Function Technician credential. Doing so involves a 115-question National Board for Respiratory Care exam.
Related Resource: Holistic Nurse
Overall, pulmonary nurses carry out treatment programs for helping patients with respiratory diseases improve their breathing and maintain good oxygen levels. According to Indeed, the average yearly salary for pulmonary nurses in the United States is $62,000. Working as a pulmonary nurse will provide plenty of room for advancement too. After obtaining a Master of Science in Nursing , a pulmonary nurse could become pulmonary nurse practitioner  or clinical nurse specialist for more responsibility.