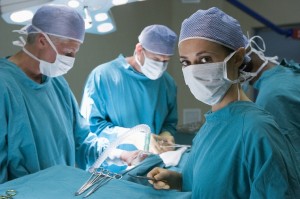 The types of nurses that work in the operating room full time are most often scrub nurses. Without these valuable players in the operating theater, surgeons would be unable to do their jobs. Work as an operating room nurse is physically and mentally challenging, but the majority of scrub nurses today have been working their specific positions for more than 15 years. Here's a closer look at the makings of an operating room nurse:
Education
An OR nurse must maintain up-to-date RN licensure, and many hospitals are beginning to require bachelor's degrees or higher for their operating room nurses, according to Travel Nursing. While you can obtain an RN through an associate's degree program or accredited diploma program, a BSN program will provide more extensive clinical training that can be valuable in surgery. Master's in Nursing programs are valuable for specific specializations as well as for helping nurses remain up to date on modern medical advances. A scrub nurse who knows about the latest surgical procedures will be most helpful to surgeons performing them.
Careers
A career as a scrub nurse is as demanding as it is rewarding. A scrub nurse needs to be familiar with the habits and preferences of each surgeon. Knowledge of favorite gloves, preferred instruments, and so on will help an OR nurse create the ideal setting for a surgeon to work her or his magic on a patient. Additionally, a scrub nurse is responsible to keeping the operating area and all supplies and tools properly clean and sterile. This career requires knowledge of a wide range of medical procedures and the ability to act quickly in the case of a critical situation. A scrub nurse needs to remain alert and maintain optimal physical fitness as it is often necessary to stand in a single spot for long periods of time without so much as a bathroom break. On a more positive note, OR nurses have the opportunity to witness and take part in a wide range of healing and helpful medical procedures.
Certifications and Opportunities
In order to work in the operating room, a nurse must have some advance training as well as her basic certifications. Most OR nurses must have some experience in the medical profession before assisting in surgery. Scrub nurses are also required to participate in competency assessments on an annual basis. Many traveling nurses are OR nurses, so a career in the operating room is often attractive to those wishing to see the world.
Related Resource: Nurse Anesthetist
Many people who choose a career in nursing do so for the opportunity to be a part of the healing process. When compassion and innovation in medicine combine, modern miracles can take place. If you are interested in being a part of these miracles in modern medicine, a career as a scrub nurse might be for you. Types of nurses that work in the operating room are dedicated, tireless, positive and intuitive, and as a result, they get to see some of the most amazing things occurring in the field of medicine today.