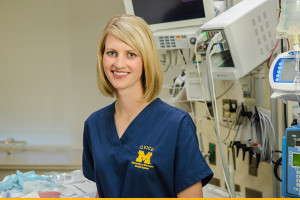 With cardiac disease being one of the leading causes of death in the U.S., the role of the cardiac nurse is a highly important one. These nurses, who may work in ICUs and coronary care units in hospitals as well as rehabilitation centers, can be instrumental in helping patients at various stages of heart disease. Cardiac nurses are important not only in helping to treat patients with heart problems, but in helping to educate people regarding ways they can improve their overall heart health and thus prevent serious heart problems in the future.
Education and Certification
Cardiac nurses are registered nurses (RNs) who generally hold a certification in cardiac care. You can learn more about the certification process at the American Nurses Credentialing Center (ANCC). Their programs provide credentialing for nurses in a variety of specialized fields. The standard credential for many cardiac nurses is the Cardiac Vascular Nursing Certification. In order to be eligible for this credential, you must have been a full-time RN for a minimum of two years. You also need to have 2,000 hours of relevant clinical practice in the past three years, and at least 30 relevant continuing education hours within that same time frame. Once you meet the eligibility requirements, you must take and pass a certification examination. Nurses who hold this credential given the title of RN-BC. Part of the training for nurses in cardiac care involves learning basic and cardiac life support techniques.
Types of Work
Cardiac care nurses work in a variety of settings to help patients at different stages of heart disease. Some may work as health educators to inform people about the risks of heart disease and the changes they can make in lifestyle to live heart-healthy. Others may work in rehab centers and hospitals with patients who are being tested for heart ailments or who have already been diagnosed with them. When working with patients, they may be called on to do a number of tasks, including administering EKGs and stress tests, as doctors look for evidences of blockages or other problems. Some cardiac nurses work with patients who are undergoing heart surgeries. They may help prepare them for the operation and also monitor their medications and recovery period.
Cardiac nurses generally work under the direction of a cardiologist. They serve patients with all types of problems, including congestive heart failure, angina and coronary artery disease.
Related Resource: asglk
Some statistics place as many as one in four deaths in the United States as due to heart related ailments. The prevalence of the problem means that cardiac care nursing is and will continue to be important. Heart patients need skilled and compassionate care as well as education about the best way to prevent further heart problems. Education can also be important for family members and other caregivers for heart patients. If you're looking for a nursing specialty where you can make a real difference in the quality of life for your patients, you might want to consider becoming a cardiac nurse.