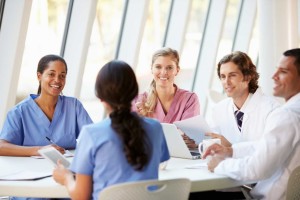 Nursing administration encompasses a broad array of clerical and management tasks that are typically performed by Registered Nurses (RNs) with advanced training. In short, nursing administrators are licensed health care professionals that oversee the work of other RNs. Continue reading to learn how an RN can become a nurse administrator.
What is Nursing Administration?
According to the American Association of Colleges of Nursing (AACN), nurse administrators fill a variety of roles across the health care system. Armed with either a master's or doctoral graduate degree, these health care professionals perform vital administrative and management tasks. For example, they may be required to perform human resource tasks, such as creating work schedules, giving performance reviews and developing standard processes and policies. They will also enforce industry standard legal and ethical standards for all employees. Nurse administrators typically attend personnel meetings, provide employee training and ensure that the hospital meets rigorous state and federal licensure requirements.
Where Do Nurse Administrators Work?
Most nurse administrators work in a hospital. However, some also work in nursing homes, small clinics and urgent care facilities. Regardless of the location, nurse administrators normally do not work on the care floor, but in an office setting. Thus, they have limited contact with patients or the public. However, nurse administrators all have prior hands-on experience as a hands-on health care professional.
What is the Difference Between a Nursing Manager and Administrator?
Although these terms are used interchangeably, they each perform different functions and responsibilities. As a result, the salary levels are different. For example, nurse administrators typically oversee different departments or different hospitals. On the other hand, nurse managers will oversee one or more nursing units within a single organization. Consequently, nurse managers report to nurse administrators. Nurse administrators also referred to as a nurse executive or a director of nurses. Nurse managers are normally referred to as a head or chief nurse.
What are the Core Competencies?
The American Organization of Nurse Executives (AONE) sets the standard core competencies for nursing leaders. Their goal is to reshape the health care system and patient experience through innovative and efficient nursing leadership. According to AONE, all nursing leaders must continually demonstrate competency with the following: communication and relationship-building, familiarity with the health care environment, leadership, professionalism and business skills. First, nursing administrators must have good communication and relationship management skills. Second, they must have knowledge of laws, policies and clinical practices. Third, they must apply the principles of change management and critical thinking skills. Fourth, they must maintain the highest levels of ethics, advocacy and accountability. Fifth, they must have finance, technology and human resource skills.
What are the Education and Licensure Requirements?
At minimum, nurse administrators must have at least a nursing bachelor's degree and maintain an RN license. However, most positions now require a master's degree, such as a Master of Science in Nursing. These programs offer specialization in core areas, such as research, finance, management and public policy. All states require nursing care facility administrators to pass a licensing examination and obtain annual continuing education credits. As an alternative, there are post-master's certificates for RNs with bachelor's degree. In fact, other career opportunities include health information manager, nursing service administrator and medical and health service manager, according to the Bureau of Labor Statistics. These positions require a bachelor's degree, state exam and continuing education credits.
Related Resource: NCLEX Exam
In the end, there are excellent career opportunities for RNs who wish to pursue a career in health care management. Nurse administrators possess advanced training and core competencies that allow them to oversee and improve the health care system. Nursing administration is a challenging, yet rewarding career.