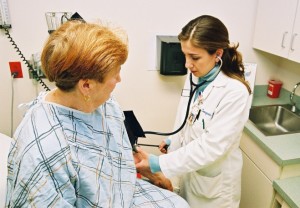 A woman's health nurse is a health care professional who has extensive expertise and education in woman's health care. They are generally referred to as a women's health nurse practitioner (WHNP).
What Do Women's Health Nurses Do?
The primary role of a women's health nurse is to provide professional nursing care to patients under the supervision of a physician and practice manager. Women's health nurses are expected to promptly respond to patients' needs and monitor workflows to minimize delays. Before patient intake, a women's health nurse must proactively review the patient chart, complete all documentation and set up examination rooms, materials and equipment.
Women's health nurses assist physicians with preparing patients for treatment, which includes taking vital signs and patient histories. They collect specimens, administer injections, explain physician's orders to patients and conduct authorized in-office tests. They also assist other health care providers and office staff with coordinating patient care and case management. They must follow office protocols, regulatory standards and OSHA and HIPAA guidelines.
What are the Job Qualifications and Expectations?
Women's health nurses must be a graduate of an accredited school of nursing. Most health care employers prefer candidates with an active RN license a few years of health care experience. Women's health nurses should understand electronic medical records (EMRs) and how to leverage technology to their advantage. They must be able to function independently, document meticulously and handle stressful situations well.
Women's health nurses will most likely be required to work evenings, nights, weekends and holidays. They must have the ability to learn quickly and adapt to changing patient and environmental needs. They need a strong sense of accountability and commitment to continuous improvement. They must have an exceptional focus on teamwork, dedication to ongoing education and the ability to deliver the highest levels of quality care.
An Educational Overview
Women's health nursing programs use traditional classroom settings and innovative approaches to stimulate experiences, clinical training skills and the development of deep primary care knowledge. These comprehensive programs promote the clinical reasoning and judgment skills specific to women's health care. Classes will examine the social, biological, psychological and environmental factors that affect women's lives and health.
Curriculum content will include standard topic areas such as pregnancy, contraception, breast health, hormone therapy, domestic violence and substance abuse. Sample class titles include reproductive, integrated and ambulatory health care for women. Most employers prefer candidates who have graduated from a Commission on Collegiate Nursing Education (CCNE) accredited program.
Where Do WHNPs Work?
Women's health nurses serve patients in a variety of practice settings, such as prenatal, family planning and ambulatory OB-GYN clinics. They work in private practice offices and internal medicine departments in large hospitals. Women's health nurses also work in infertility clinics, women's prisons, nursing homes and Planned Parenthood facilities.
Related Resource: Psychiatric Nurse
A woman's health nurse is generally an RN who has a bachelor's of science in nursing and advanced training. A women's health nurse provides exclusive health care services and treatments to women.