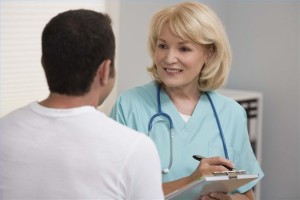 A psychiatric nurses uses their mental health expertise to provide therapy, medications and crisis interventions for patients. Psychiatric nurses are health care professionals who assist psychiatrists and other mental health care professionals help patients overcome a variety of mental illnesses.
What are the Different Levels of Psychiatric Nursing?
There are two types of clinical based psychiatric nursing. The first type is basic and involves RNs working with individuals and groups to assess mental health problems, develop treatment plans and implement related nursing care services. Entry-level psychiatric nursing revolves around mental health interventions designed to promote health, identify dysfunctions and assist clients cope with their problems. Thus, they help clients with self-care activities, administer psychobiological treatments and provide support and case management.
RNs with a master's degree become advanced practice nurses (APNs) in the specialty of psychiatric nursing. They are referred to as Psychiatric Nurse Practitioners or Psychiatric Nurse Specialists. These nurses must complete a rigorous academic program and supervised clinical practice. In addition to the basic duties listed above, they assess, diagnose, and treat a variety common mental health problems and complex psychiatric disorders. They provide the full range of mental health care services similar to psychotherapists. Some states allow them to prescribe medications and practice independently.
What are the Essential Job Functions?
Psychiatric nurses provide comprehensive and integrated treatment services to individuals with serious mental illnesses. They provide support, promote rehabilitation and ensure the safety and wellbeing of their patients. They often work with patients who have had repeated hospitalizations or are at risk for long term psychiatric hospitalization. Psychiatric nurses conduct mental health evaluations, risk assessments and crisis interventions.
Psychiatric nurses coordinate mental health care services and regularly follow-up with patients. They must maintain medical records, prescribe medication and consult with mental health professionals regarding treatment plans. Depending on the facility, they may assist with vocational counseling and life skill development programs. They also act as a liaison with government agencies and an advocate for community service providers. Psychiatric nurses work in hospitals, schools, medical offices and mental health facilities.
What are Psychiatric Nursing Specializations?
According to the American Psychiatric Nurses Association, there are eight main psych nursing specialty areas. There is substance use, which teaches nurses about SAMHSA-based treatment, and integrated care, which focuses on general best practices. A military concentration will prepare the psych nurse to deal with PTSD within the context of the military sub-culture. On the other hand, an adolescent specialization will train the nurse to deal with teen related issues such as trauma, depression and suicide. Emergency nursing focuses on crisis care in clinical settings, while a geropsych nursing specialization prepares students to care for older adults. Finally, there is a multiple chronic condition specialization.
Related Resource: Public Health Nurse
Psychiatric nurses are mental health care professionals who typically begin their career as RNs but obtain the education necessary to provide licensed mental health services to patients. A psychiatric nurse position combines the best of both nursing and psychiatry services.